I am in the process of gathering together a variety of resources for teaching this topic. I also hope to include some examples of children's work. Here is a PowerPoint presentation showing the phases of the moon. This was shown to the children and they would record each phase in their science books. However, rather than just accepting this as evidence the children were then given this homework sheet; My Moon Diary.  They then went on to record what they saw in the sky at night. They did this work over several weeks. When they returned to class with their diary, we did a variety of practical activities to see how and why we see each phase. If you are interested in developing your experience with teaching children about space and other science topics, then join us on one of our primary science courses.
When the children have investigated moon phases and have obtained images, they can go on and use this rather interesting piece of online software http://slide.ly/view/0062acf52369f2a56749eca265721b6d
Slidely is a very easy to use programme that will turn your moon images (which you may have taken by using the Bradford Robotic Telescope) into slideshow videos. You can of course add music to these shows and share with others, giving your pupils the chance to have a wider online audience. However, unlike Microsoft's Photostory 3, you cannot take quite so much ownership of the videos so they are then unable to be added to this online magazine http://livingjunction.com/journal/space/1
Using Apps To Teach About Space
I have personally not used apps in class with children but have had many requests from teachers about recommending some. Here is a small but hopefully growing list which I have compiled from professional magazines such as Primary Science Review and Springboard Stories.
Apps for iPad
Jetpack Journeys – https://itunes.apple.com/us/app/jetpack-journeys-space-exploration/id680257366?ls=1&mt=8
This app has been developed for younger children. The developer worked on this after his young son became interested in the topic; unfortunately, he found that most products out there were for children above the age of seven.
It can work on iPhone, iPad and iPod Touch.  Created as a digital toy, children can explore the environments freely. There are three sections; explore, build and collect. First the children can explore the solar system and develop an understanding of where Earth is in relation to the other planets. The build section allows children to develop their creative skills by making their own spaceship. The collect section allows them to collect spaceship parts or stars as they jetpack about with any of the five playable characters. There is an added bonus for parents who may be concerned about younger children using apps, there are no in-App purchases!
Astronaut Trainer – https://itunes.apple.com/us/app/astronaut-trainer/id761412238?mt=8
Another app from the developer of Jetpack Journeys. This app has five play modes and is a fun way to encourage younger children to learn about space. I more detailed review will appear here shortly.  If you are unsure about teaching this subject to younger children then do join our Science in the Early Years course.
Solar Walk – https://itunes.apple.com/gb/app/solar-walk-3d-solar-system/id347546771?mt=8
This is a 3D solar system model designed for iPhone and iPads which has been developed by Vito Technology Inc. The rating for this is 4+ and after a quick look at the review section it appears to be very popular. There is a free version which I have downloaded to my iphone but this does not have all the features of the paid app which cost £1.99.
Spacecraft 3D – https://itunes.apple.com/gb/app/spacecraft-3d/id541089908?mt=8
This is an augmented reality app from NASA that lets you learn about and interact with a variety of spacecraft that are used to explore our solar system. Using the camera on your mobile device and a printed AR target , you can get up close to these robotic explorers and see how they move. Another benefit is this app is free. I downloaded the app onto my phone and was quite impressed, I expect the images look better on an iPad.
Apps for Android
Google Sky Map –
https://play.google.com/store/apps/details?id=com.google.android.stardroid
This app is free and can be found onf Google play, there is a small introductory video from the software developers explaining how to use the app which is useful. You can point your device at the sky in front of you and it will show you a map of the stars and planets for that particular time of year. You can also search for specific objects such as planets.
Information Books about Space
Full reviews of these books appear in the 'Primary Science Journal' Number 130 Nov/Dec 2013
My Tourist Guide to the Solar System..and Beyond – Lewis Darnell – Doring Kindersley
This book starts with 'You're about to leave for the holiday of a lifetime.' The book is based on a travel guide and gives journey times, temperature charts and tourist tips, all illustrated with stunning art work and the latest NASA images.  The guide reveals the practicalities of living in space such as space toilets and journeys that last months or years. The reviewer highly recommends this book for children of any age.
Machines close-up: space vehicles – Daniel Gilpin and Alex Pang – Wayland
Each double-page gives details about different space vehicles which I think would accompany the above app really well.  Although the subject matter is complex, the reviewers believe that the information is very easy to understand, with plenty of clear illustrations and diagrams and is very likely to appeal to children who are interested in space, engineering or machines.
Further Web Resources
Space Scoop – http://www.unawe.org/resources/spacescoop/
Space Scoop is a site that writes news articles about astronomical discoveries, written in a child friendly language and accompanied by a stunning astronomical image. It makes a fantastic tool that can be used in many different ways to teach, share and discuss the latest astronomical news. These images and scoops are produced in partnership with many top organisations including NASA Chandra and the European Space Agency (ESA)  In addition to text, Space Scoop is available in other formats such as podcasts and videos. The Creative Commons Licence allows you to post Space Scoop materials on any website, social network or publication for free.  A fantastic resource which with imagination and planning will enhance the teaching of this subject.
Whitehouse debate – http://millercenter.org/presidentialclassroom/exhibits/fly-me-to-the-moon
A fascinating recording about the importance of getting a man on the moon which was held on 21st November 1961 in the White house Cabinet room. A very interesting glimpse back in time, Kennedy clearly believes getting on the moon is the top priority.
Events for 2014
Here is a list of astronomical events for 2014. Many thanks to Norinah Shah who is a 14 year old girl from Pakistan who has a passion for astronomy.  Check out here for more information about her ambitions and dreams. Her twitter account is @aneyeofsky – do follow her for some beautiful images and events about space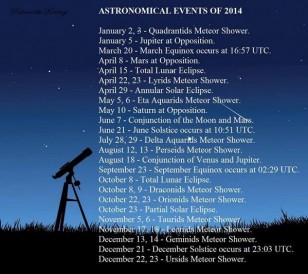 CPD training for teaching primary science
If you want to find out more about how to use these resources in your classroom then check out cpd courses for teaching staff here  We also have an early years science course and further details can be found on this page  If you have any further questions then feel free to contact us via email info@technology to teach or use our contacts page